Chalenj is a Performance Support platform that utilizes a micro-action engine that directs individuals toward the information they need to do their job.
With Chalenj, organizations can turn their content, training or procedures into a challenge that can be easily accessed by individuals when they need it most.
Front-line Workers

Health Care Workers

Law Enforcement Workers

Drivers and Delivery People

Construction laborers

Retail Workers

Assembly Line Workers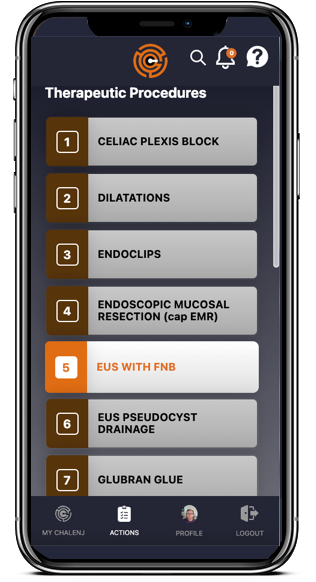 Manufacturing Workers

Students & Participants

Hospitality Workers

Human Services Workers

First Responders

Warehouse Workers

Essential Workers
I'd like to know more!
How Chalenj Supports Individuals
Forgetfulness: Individuals may forget specific steps or procedures involved in performing a task. Chalenj provides job aids or checklists that individuals can quickly reference to recall the necessary steps.
Lack of Confidence: Individuals may lack confidence in their ability to perform a task, especially if it is a new or infrequently performed task. Chalenj can provide learners with the resources they need to feel more confident and capable, such as step-by-step guides or tutorials.
Time Constraints: Individuals may not have the time to attend lengthy training or info sessions. Chalenj provides individuals with on-demand access to information and resources, allowing them to quickly reference the information they need and continue with their work.
Changing Requirments: Indivdiuals may face changing requirements, such as new technology or procedures. Chalenj can help learners adapt to these changes by providing updated information and resources as needed.
Knowledge Gaps: Individuals may encounter situations where they lack the necessary knowledge or skills to perform a task. Chalenj provides learners with the resources they need to quickly fill these gaps and complete the task successfully.
Chalenj Supports individuals in 2 Ways
One, help individuals with what they DO, and two, make what their DOING better!
1

Quick access to information to DO the task.

Chalenj QR codes and/or links give quick access to the information individuals need to do the task.

Having access to information easily and quickly ensures that the individual is able to do the task when no one else is around to help. This can include procedures, lists, instructions, etc.

This ultimately provides the individual a sense of comfort and an 'in the flow' understanding of what needs to be done to complete the task which leads to higher satisfaction and completion rates.

2

Incrementally learn about DOING the task better.

Once the individual is able to do the task, understanding why they're doing it that way and how they can do it better is the next step. Chalenj breaks down learning into micro-actions that take place over time and help reinforce what they're doing to complete the task and how to do it better.

Chalenj allows organizations to:

1) Create new content that can easily be added to Chalenj, and/or

2) Incorporate multiple learning resources (LMS, LinkedIn Learning, discussion boards) and HRIS systems (Payroll, Performance Reviews, Surveys) that support and guide an individual toward completion. This takes the frustration out of having to locate various resources.
I'd like to know more
Individuals are a QR Code away from the information to do their job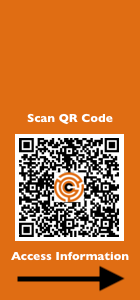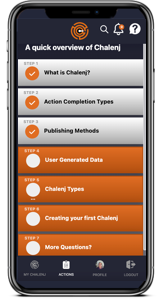 Chalenj helps organizations to:
Create incremental and rapidly deployed content
Edit and deploy content in real-time
Generate data on user activity
Implement unlimited Chalenjs under one platform
Validate action completion using multiple methods
Publish public or private invitations to participate
Guide. support and engage employees through multiple resources (LMS, HRIS)
Lead a user to deeper learning and a desired outcome
Chalenj helps the individual to:
Access content 'in the flow' of the task
Receive email notifications on unlocked actions
Retain content and apply it by leveraging micro-learning principles
Complete a Chalenj on their timeframe – when and where they want
Access a repository of content right from their phone at any time
Achieve deeper learning and a desired outcome
Quick implementation and deployment
Getting started is easy!
1

Work with a Chalenj consultant to set up your authoring account to build your first Chalenj

2

The Chalenj development team will either create or support you in building your Chalenj

3
I'd like to know more!
Once live, accessing Chalenj is as simple as 1, 2, 3

User's process for completing a Chalenj:
ONE:

Scans a QR Code, receives an email or clicks a link
TWO:

Opens Chalenj on their device to view the content
THREE:

Continues to access Chalenj when information is needed
individuals will now have access to the current Chalenj as well as any other Chalenjs they've been linked to. A repository of information will be stored in their accounts so they can access it in the future if required.
If changes to a Chalenj are required, you simply go into your self-authoring account and update it in real-time.
Chalenj incorporates a QR Code planning process in order to identify strategic locations where individuals require access to information to do their job
Mapping out strategic QR Code placement for easy access to information by individuals

Highlighting procedural versus product information where necessary

Onboarding individuals while enabling them to explore their surroundings on their own with access to the right information
Providing deeper learning that is automatically activated to develop the individual to do the task better

Orientating the individual to job requirements and the physical environment

Strategically placing QR Codes so the individual does not have to fully rely on others for support
I'd like to know more!
Easily Tracks, Monitors and Supports your individuals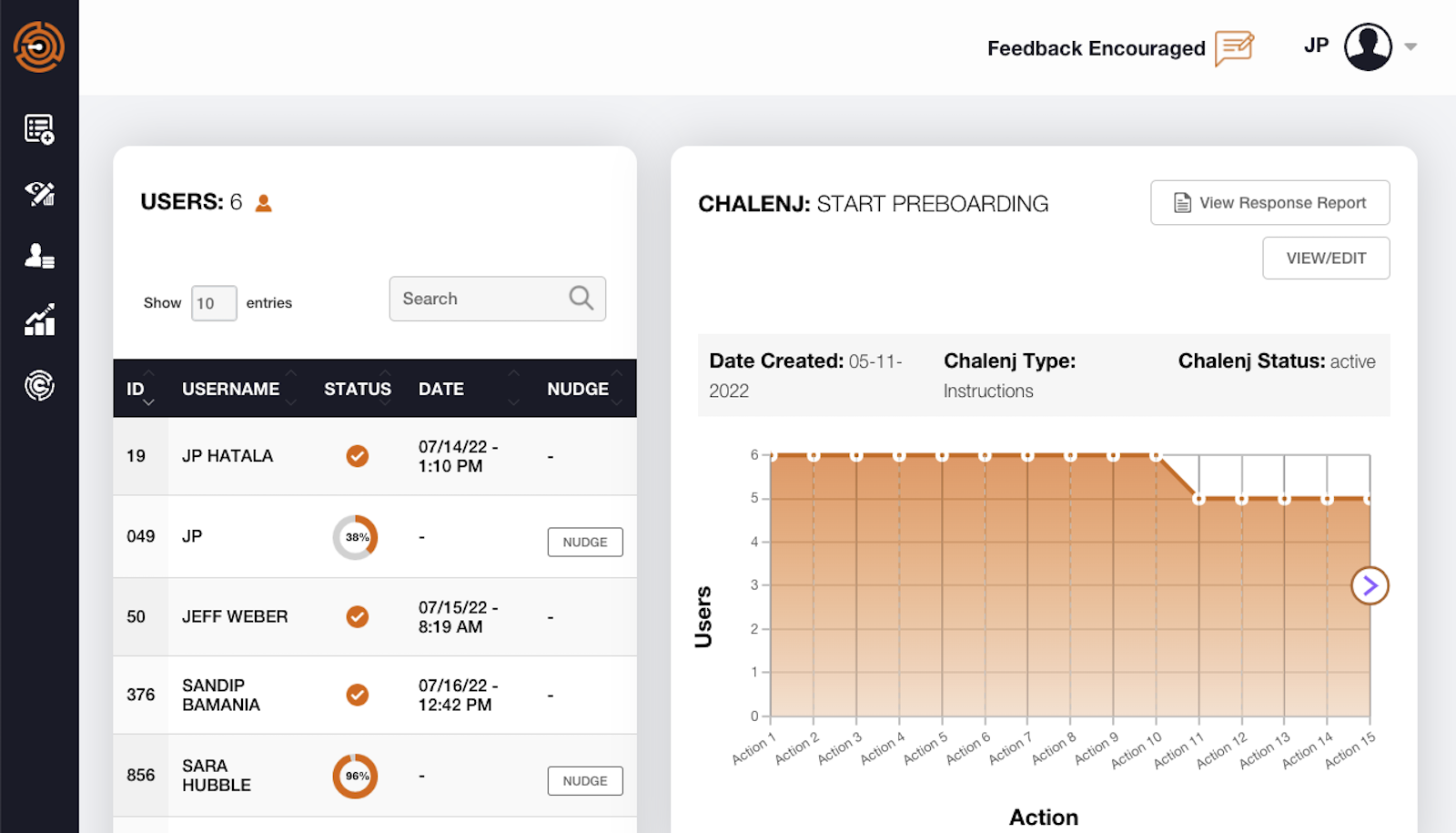 Chalenj allows authors to closely track and monitor their user's activity and provides detailed data on completion rates. The author panel is intuitive to use and Chalenjs can be created and published on the fly. The author panel allows you to:
Edit and deploy content in real-time

Generate data on user activity

Implement and manage unlimited Chalenjs

Validate action completion using multiple methods

Publish public or private invitations to participate

Access information from completed Chalenjs

'Nudge' users to complete actions automatically or the ability to manually send out a reminder

Track and monitor all user activity

Generate Chalenj completion reports
Chalenj in action
Industry:

Retail Channel Partners

Situation:

Pet food distributor in North America needed to provide product knowledge training quickly and effectively.

Desired Outcome:

Get retail staff to understand the benefits of the specific brand in order to accurately recommend it to customers.

Chalenj:

Staff were invited to a seven day Chalenj consisting of 2 actions per day. First action, 2-3 minute informational video and second action, knowledge review question.

Chalenj Results:

All staff completed the Chalenj within the 7 days and successfully passed a knowledge test.
Industry:

Human Services

Situation:

Community shelter had high staff turnover and found it difficult to fill positions with highly trained staff.

Desired Outcome:

Hire employees who could be trained while on the job.

Chalenj:

Staff hired were able to start right away. QR codes were set up throughout the workplace to provide quick access to information that was needed on the job.

Chalenj Results:

Staff were scanning QR codes on a regular basis and were able to quickly get up to speed on the job requirements.
Industry:

Delivery Service

Situation:

A delivery service wanted to provide access to SOPs for all of its drivers.

Desired Outcome:

Provide access to information to staff that was easy to access and updated.

Chalenj:

The organization placed QR codes in each of their trucks to allow drivers to scan and access information needed while on the road.

Chalenj Results:

Drivers had access to information they could access on their own versus having to call back to head office, saving time and money.
We want to create your first Chalenj for you!
Two ways to create a Chalenj:
1. Want to create your own: Chalenj provides a self-authoring tool that allows your organization to go in and create your own Chalenjs.
2. Want someone to create it for you: Hire a Chalenj consultant to turn your content into a Chalenj.
---
For a limited time, all paid subscriptions will get FREE access to a Chalenj consultant to build your first Chalenj.
This means that you can start providing access to your deskless workforce immediately, giving them the information they need to succeed on the job.
While we're building your first Chalenj you get to see firsthand how to develop, create and implement your own. We walk you through the simple process so you're up and going quickly.